To mark the 'International Women's Day' in the most commendable way, Can Protect Foundation, along with the Women's Institute of Technology, Uttarakhand Technical University organized a five-km walkathon titled 'Run for Niine' on Friday.  In which women from all walks of life marched together for 'Run4Niine' movement to repulse social stigma associated with one of the most vital yet less talked about the issue–'Menstrual Hygiene'.
On this occasion, Dr. Sumita Prabhakar delivered Health Talk to the students of Women's Insitute of Technology and also organized Free Medical Health Camp for the awareness and prevention of Breast and Cervical Cancer and Women's health.

"Run For Niine" witness fabulous participation in Dehradun
The 'Run4Niine' movement aims to bridge the gap between sanitary napkin users from 18 percent to 82 percent by bringing together people of both genders across all ages, backgrounds, and abilities.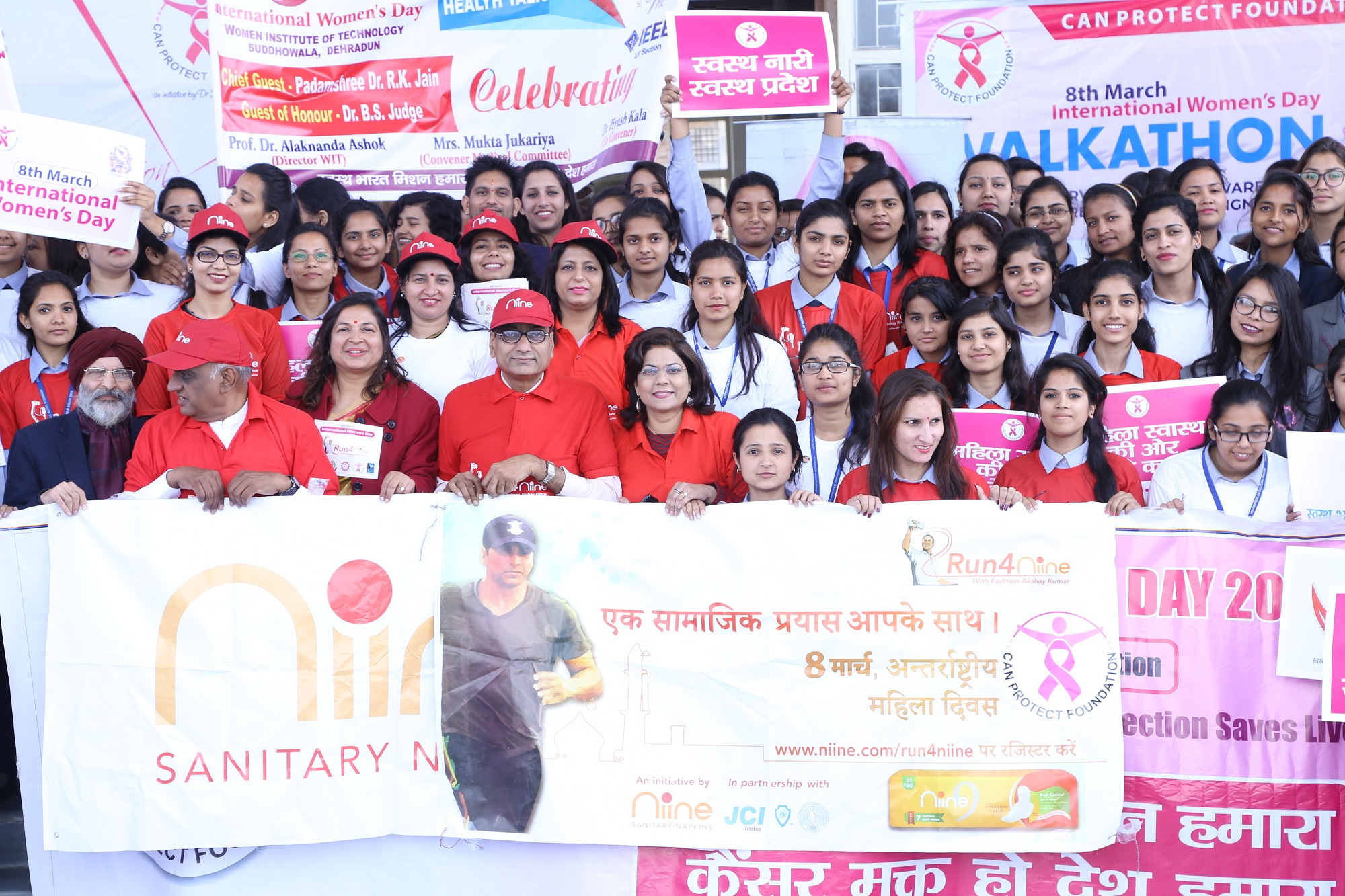 The mega event flagged off by Padamshri Dr. R. K. Jain President, Minority Commission Uttarakhand,  Guest of Honour Dr. B.S.Judge, President Indian Medical Association Uttarakhand, Vice Chancellor of Uttarakhand Technical University Dr. Narendra S. Chaudhariis along with Dr. Alaknanda Ashok, Director WIT, Dr. Sumita Prabhakar around 700 women marched together to spread awareness about menstruation and adoption of best practices. The event organized here in Dehradun at Women's Institute of Technology saw the participation of around women from all walks of life. Women's holding placard on menstrual hygiene and women's health spread awareness about menstrual hygiene.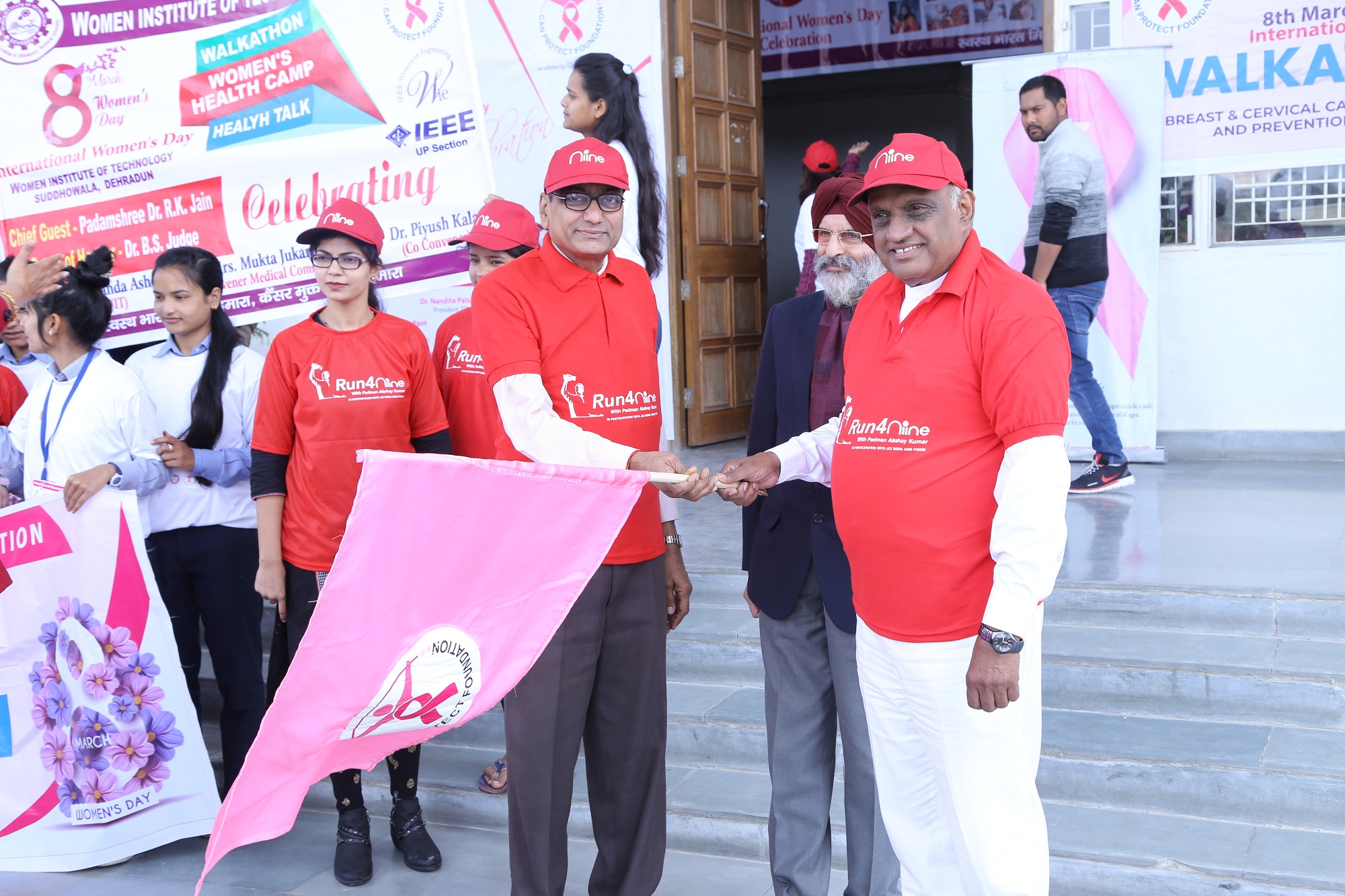 It is time to rise up and fight a long-neglected taboo: menstruation
"Unhygienic practices during Menstruation and lack of awareness and access to hygienic sanitary pads is a severe threat for the society. We all should contribute to eradicating this social stigma, students need to come forward. Those residing in hills of Uttarakhand must try to engage themselves in spreading awareness about 'Menstrual Hygiene', as Cervical Cancer is growing in the state." said Dr. Sumita Prabhakar who has been working extensively in the rural belts of the State to weed out the taboo associated with menstrual hygiene and awareness for the Breast and Cervical Cancer. The figures of National Family Health Survey-4 (2015-16) suggests that women age 15 to 24 years who use hygienic methods of protection during their menstrual period though is high in the urban regions but the figures are quite alarming for rural areas. Only 39.4 percent of rural women use hygienic methods during menstruation here in Jharkhand. In urban pockets of the state, 77.2 percent of people use hygienic methods.
Earlier addressing the students, Dr. Sumita Prabhakar said, that in India, less than 10 percent of women have access to sanitary products. Many are forced to seek alternatives, from old rags to newspapers. The use of unsanitary materials often has health implications like cervical cancer. The lack of adequate gender-sensitive facilities is another challenge, preventing women and girls from maintaining menstrual hygiene in a private, safe, and dignified manner. This all stems from the idea that menstruation is "impure" and even often treated as an illness, resulting in the exclusion of women and girls in many parts of societies but it is not true. 
The chief guest of the program Padamshree Dr. R.K. Jain appreciated the efforts of Can Protect Foundation for organizing Run to raise different social issues which is a common phenomenon. However, the menstrual hygiene issue needs to be brought into the limelight for building a healthy society and such effort is worth appreciating," he said.
"India has more than 50 percent of its population below the age of 25 and it is important that the youth of today is encouraged to come address topics such as menstrual hygiene. said Dr. B.S.Judge.
Hundreds of participants participated in the 'Run Movement' to help break the silence associated with menstruation. Run4Niine-Dehradun chapter was organized by the efforts of Dr. Sumita Prabhakar, and it was supported by FOGSI.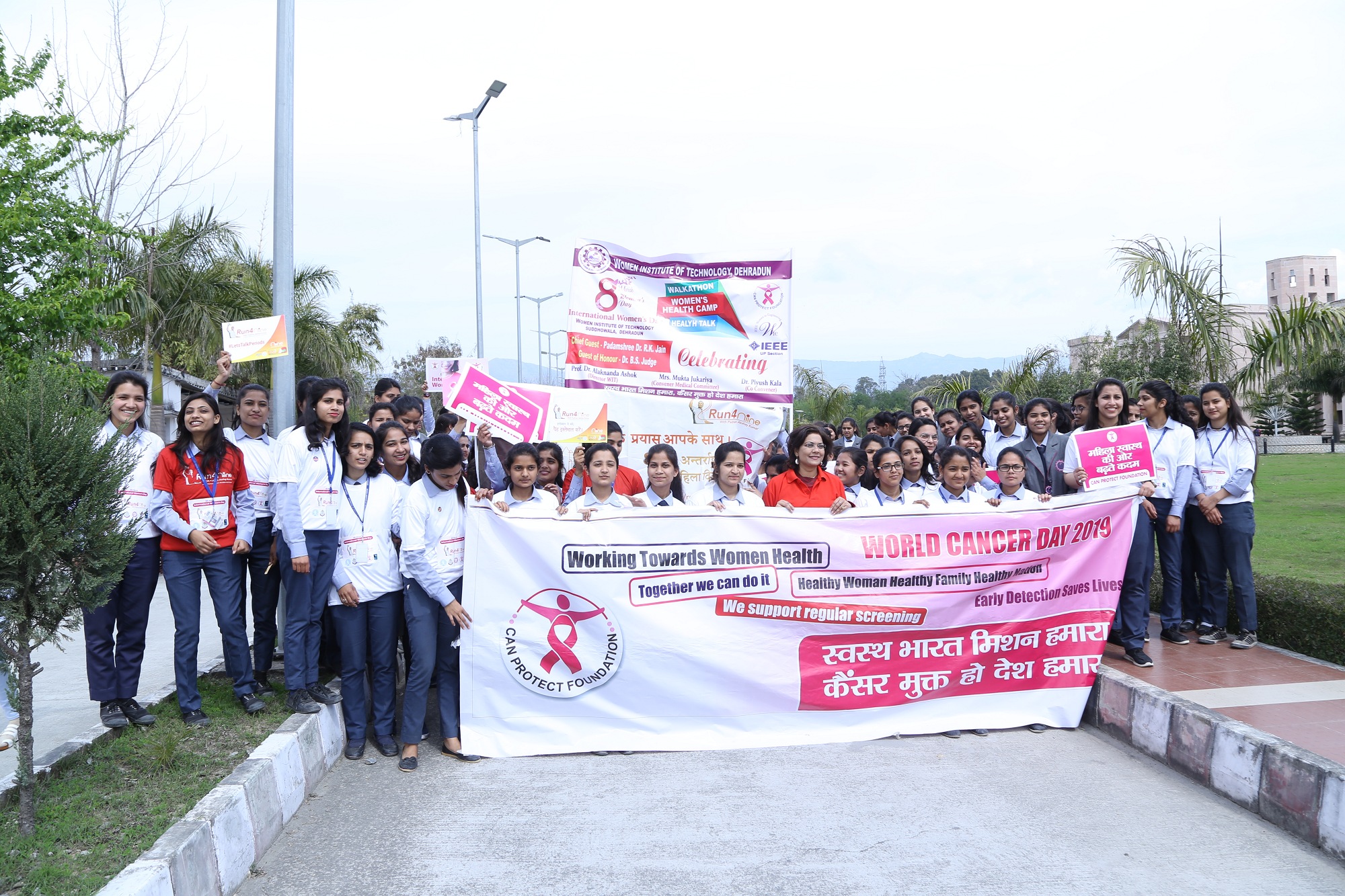 The participants in the walk were holding placards and banners highlighting the importance of Menstrual hygiene, Breast, and Cervical Cancer early detection.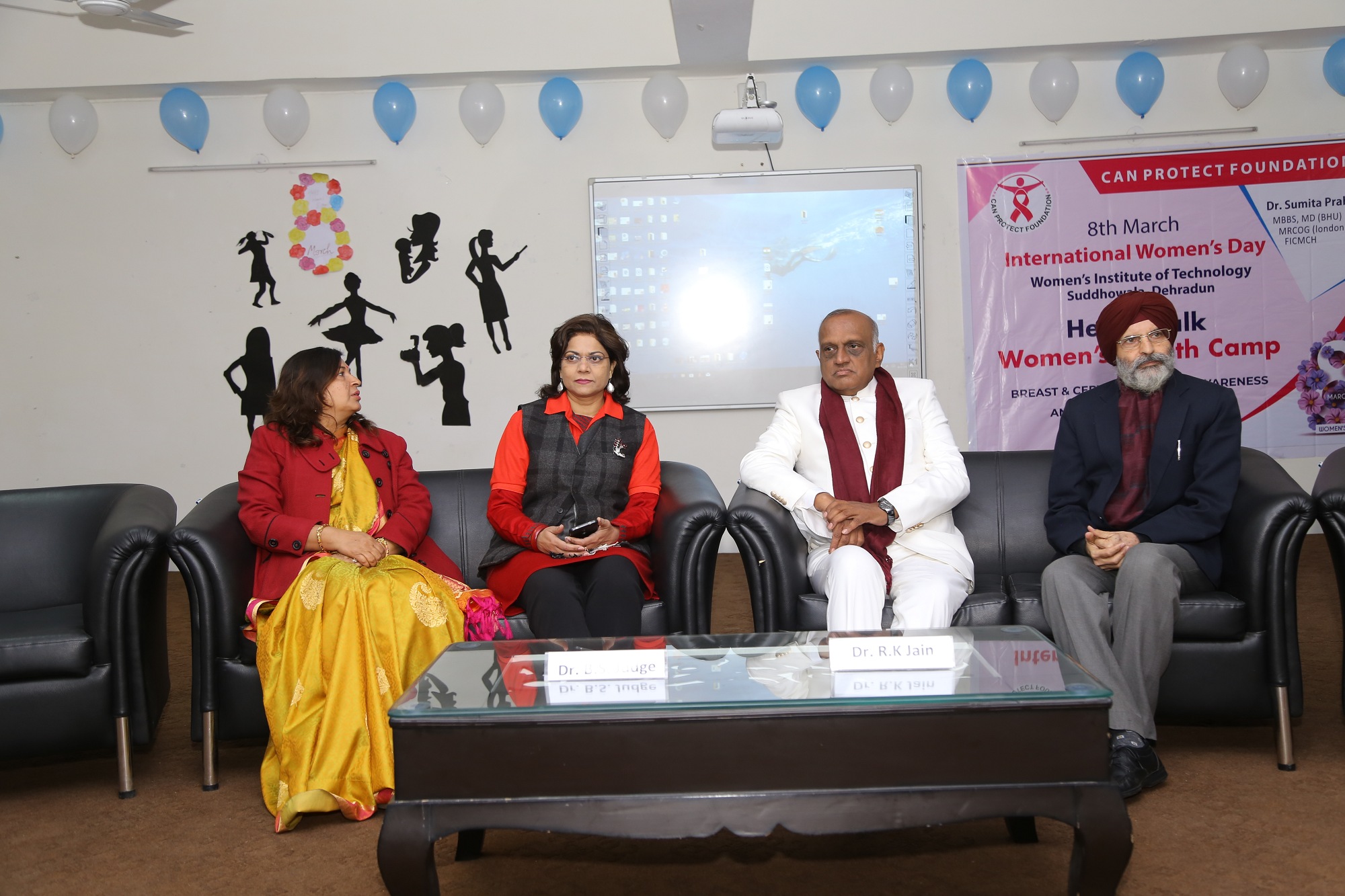 Health Talk on Menstrual Hygiene by Dr. Sumita Prabhakar
Dr. Sumita Prabhakar delivered a health talk to the students of the Women's Institute of Technology. On average, every woman menstruates for 3000 days in her lifetime, yet menstrual health and hygiene is a neglected health and development issue. Stigma, taboos, and ignorance around periods harm women and girls every day. Stigma around menstruation and menstrual hygiene is a violation of the right to human dignity. While delivering the health talk she informed the student about the myth and facts about the menstruation. She also talked about the best practices to follow during menstruation.
She also emphasized on the importance of  'Green the Red' campaign which promotes plastic free environment-friendly sanitary pads. Cloths or cloth pads may be a sustainable sanitary option, but it must be hygienically washed and dried in the sunlight. Sunlight is a natural sterilizer and drying the cloth pads on sunlight at least for 6 to 7 hours sterilizes them for future use.  The menstrual cup may be an appropriate new technology for poor women and girls. It is a cup made of medical silicone rubber that is inserted into the vagina to collect menstrual blood. It needs to be removed and emptied less frequently than sanitary pads. That reduces the problems young women face in lacking privacy and facilities to change and dispose of sanitary products in schools and other contexts. This technology may offer a sustainable, practical and cost-effective alternative. It is recommended that when using the menstrual cup one needs to maintain a high standard of hygiene especially during insertion, removal and general cleaning.
Training for Breast Self Examination was also held during the health talk, in which students were trained on How to perform a breast self-examination. Dr. Sumita Prabhakar urged students to teach breast self-examination to their mothers and other female family members. After the talk, an interactive question and answer session was also held in which many students asked questions about menstruation. 223 students attended the session along with faculty and staff of WIT. Educating girls about menstruation helps increase self-esteem.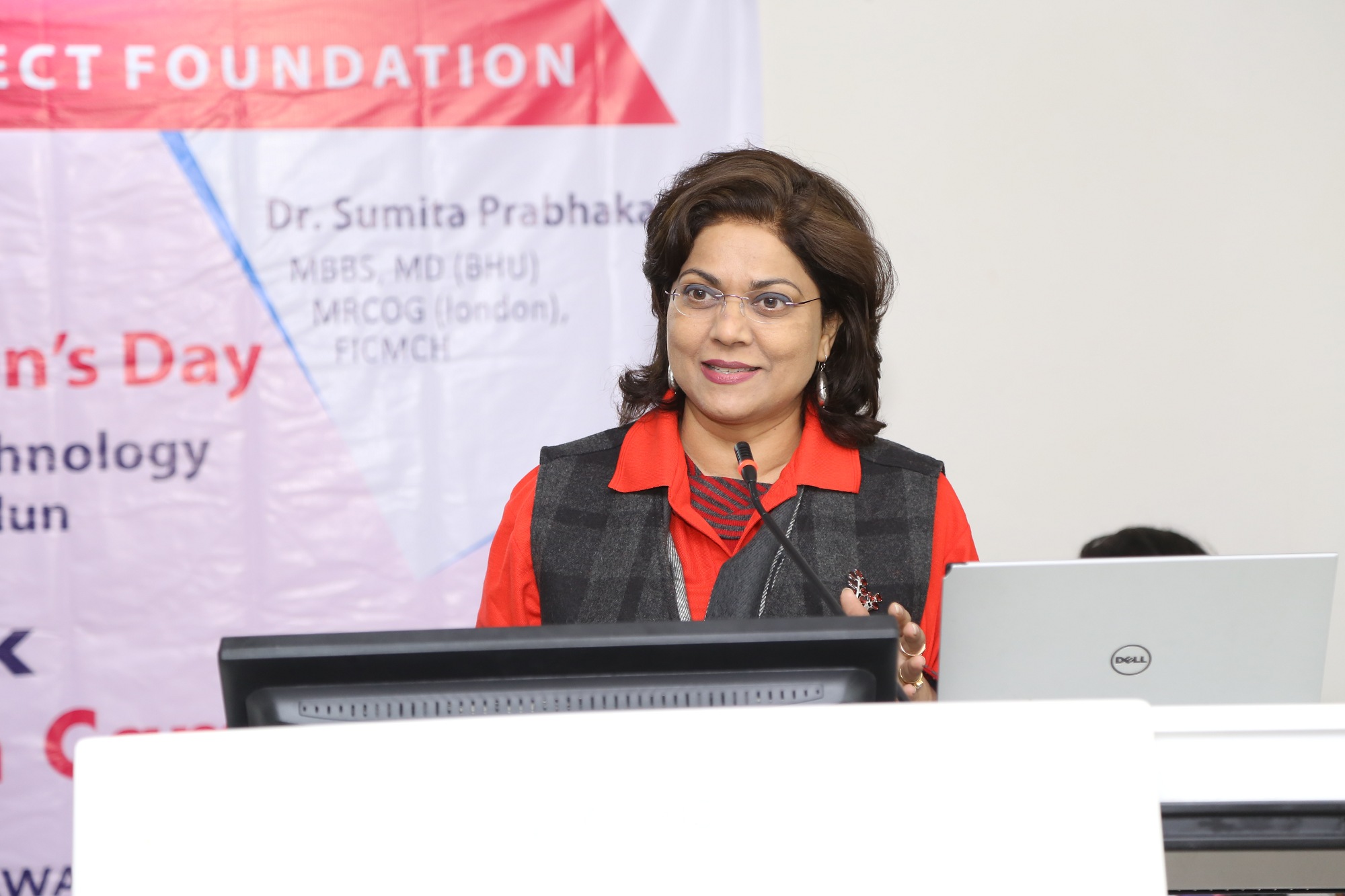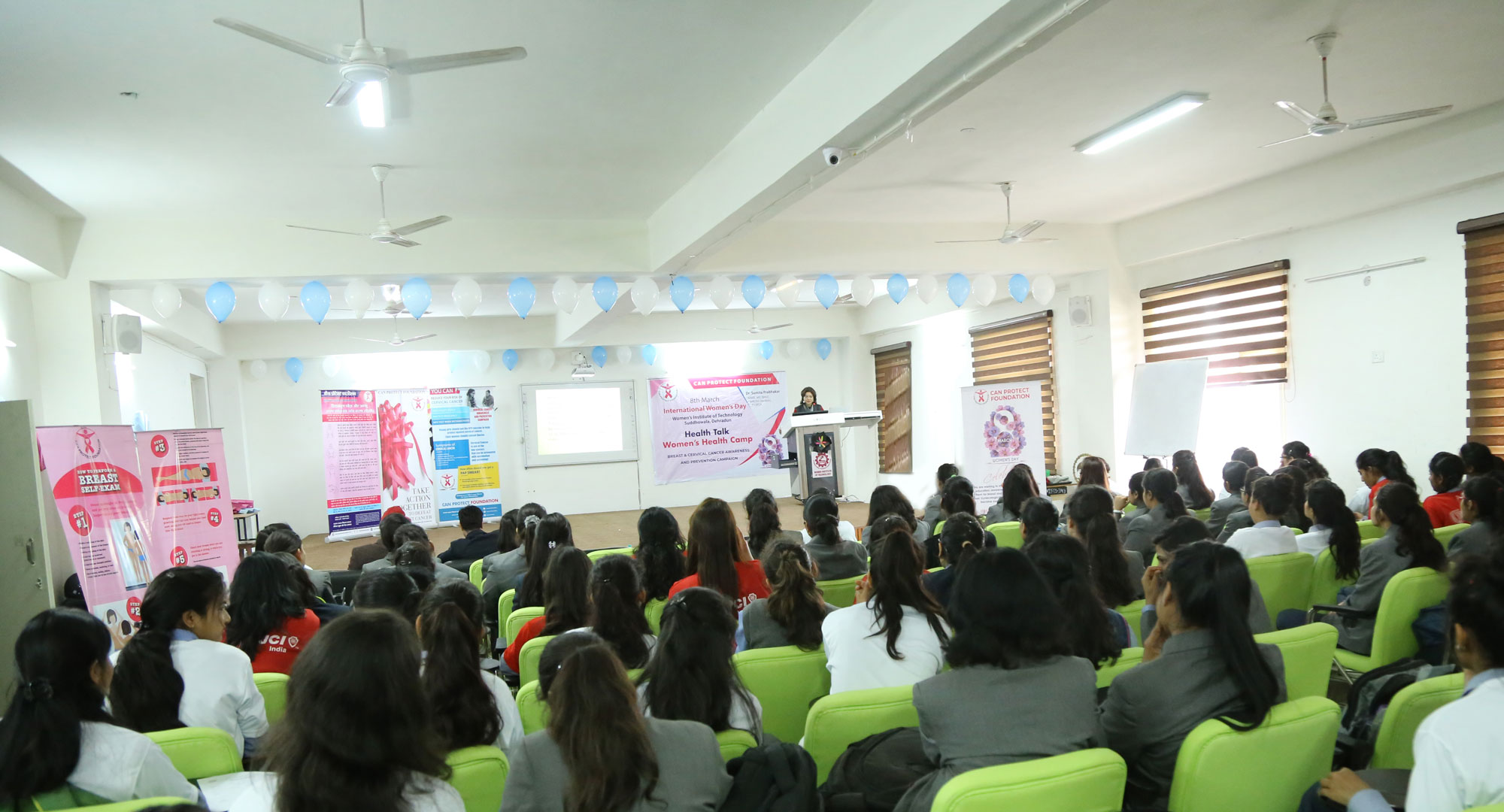 Free Health Camp for Women
More than 250 patients were checked and treated in the health camp organized on the occasion of International Women's Day by the Can Protect Foundation. The camp provided free breast health checkup for the awareness and prevention of Breast Cancer. Gynecologist of the team of Can Protect Foundation conducted various checkup. Dr. Rekha Khanna, Dr. Huma, Dr. Vinita provides consultation to the women. Flyers of Breast self-examination were also distributed to the students through which their mother and other female family members could also learn How to do Breast Self-Examination. Checkup of 25 girls of Sacchidananda Foundation was also held during the camp.
We are thankful to Dr. Alaknanda Ashok Director of Women's Institute of Technology for helping us organizing this event and Dr. R. K. Jain and Dr. B.S. Judge, Dr. Narendra S. Chaudhariis for encouraging us and students with their presence during the event. We would like to thank Dr. Rekha Khanna secretary of Wonder Women's Club, Dr. Huma, Dr. Vinita for their service during the health camp.
Free Sanitary Pads Distributed
On this occasion, Can Protect Foundation distributed free sanitary pads and other sanitation-related material for free to the students and the women's living in slums and neighborhood of WIT to create awareness regarding the health disadvantages of using unclean clothes instead of sanitary napkins. They are also informing these women about the basic concepts of health and how to dispose of these napkins.