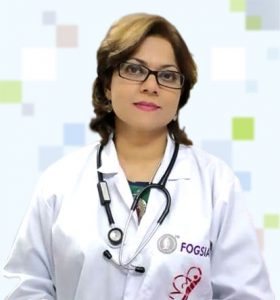 Dr. Sumita Prabhakar
OBS-GYN | IVF Specialist
M.B.B.S M.D. FRCOG (London) FICMCH, PGDHHM
Gynaecologist, Obstetrician & IVF Specialist
Dr Sumita Prabhakar is a highly experienced & passionate Obstetrician, Gynaecologist, Infertility specialist, working in  CMI Hospital, Dehradun.
Over the last 25 years, Dr Sumita provides holistic medical care to support women's health and wellbeing during pregnancy, childbirth, fertility and beyond. Her focus lies in assisting women and couples alike to achieve pregnancy in even the most challenging of situations and in providing support during pregnancy and childbirth following IVF or if conceived naturally. She is adept at handling High-Risk Pregnancies and Laparoscopic Surgeries and infertility management.
She completed her MBBS and MD at the prestigious Banaras Hindi University. She earned her MRCOG degree from Royal College of Obstetrics and Gynecologist London and training in infertility in Singapore and Malaysia.
She worked in Queen Elizabeth Hospital Malaysia, Sitaram Bhartia Institute of Science and Research. Dr. Sumita currently works at CMI Hospital, Dehradun.
Dr. Sumita Prabhakar is an experienced gynecologist with expertise infertility and IVF, advanced endoscopic, endometriosis and providing modern obstetric care including high-risk obstetrics. She is the one of a very few Gynaecologist in Uttarakhand who performs the majority of operations including myomectomies (removal of fibroids) and hysterectomies via a laparoscopic approach.
Working towards Women's healthcare
She is the only doctor in the region who started Colposcopy Center for Cervical Cancer Screening in Uttarakhand in 2002.
In the year 2003, Dr. Sumita Prabhakar organized a Laparoscopic Workshop of gynecological endoscopy in Uttarakhand, the first ever to be held in Uttarakhand.
In the year 2004, She started the training center of Colposcopy for Doctors, the center is recognized by FOGSI in Uttarakhand.
In the year 2005, she started the training center for DGO, DRCH, Junior midwife approved by ICMCH and NARCHI, IAMNEH (Geneva).
Dr. Sumita is the founder, executive director of IVF India CARE infertility center, which she started in Dehradun in 2008.
Dr. Sumita Prabhakar is a member of various associations like Federation of Obstetric and Gynecological Societies of India as well as the Royal College of Obstetrician and Gynecologist, London.
NGO for Breast Cancer in India
Founded by Dr. Sumita Prabhakar, Can Protect Foundation is a registered non-profit society dedicated n reducing the mortality rate of breast and cervical cancer through awareness, education, and prevention.
Over the years, Dr. Sumita Prabhakar has been at the forefront of fighting breast and cervical cancer. She has changed the lives of more than 20,000 women by doing their breast health checkup free of cost. In the course of her working, she organizes free medical health checkup camps with dedicated examination and consultation of women's health which focuses on breast and cervical cancer prevention and awareness. Free medicine distribution and training about breast self-examination are one of the main features in medical camps.
She collaborates with individuals, corporate organizations and the government in creating awareness. She has given more than 300 health talks on breast and cervical cancer in institutions like DRDO, ITBP, Women's Institute of Technology, IMA, Doordarshan, Uttarakhand Police to name a few.
She believes that preventive measure is a lot cheaper than curative.